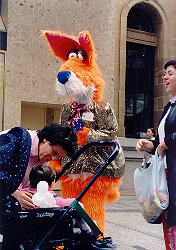 Daniel Anderson has entertained professionally since 1992 with ventriloquism, magic and song. His performances range from his self-made puppets including the roving costume character 'Wally Roo', hand puppets and a booth puppet theatre to writing, directing and choreographing musicals.

He has performed in venues such as China Town, the Queen Street mall, The Treasury Casino, the Old Botanical Gardens and Woodford Folk Festival. Most recently Daniel performed at the "one van International Puppet Festival" in the Blue Mountains.

Daniel designs and constructs his own puppet characters with complex movements including moving and blinking eyes, using materials such as latex, fake fur, fabric, fibre glass, wood, and foam.

He has written, directed and performed in many plays, musicals and operas with theatres such as the - 'Redcliffe Mouse Trap Theatre'; 'The Act one Theatre'; 'The Redcliffe Entertainment Theatre'; 'REDS Theatre Group' and 'IHOS opera'- 'The Divine Kiss'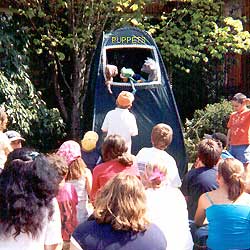 Daniel has also worked with schools and Access Arts since 1996, running musical theatre and puppet workshops. Daniel has composed music and backing tracks for Theatre Restaurants including Groucho's Theatre Restaurant.
Daniel specialises in children's shows, enthralling children and adults alike with his clever work with puppets and magic. At many festivals, shopping centres and retirement villages he can be regularly found entertaining both children and adults alike with a combination of his many artistic talents.