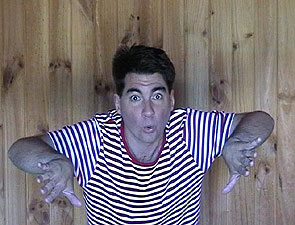 James Kerwin has studied acting in Connecticut USA, and with the Australian Theatre of the Deaf in Sydney. He has specialised in mime, studying in Toowoomba with Judith Anderson, and was invited to participate in physical theatre workshops with Frank Productions.
James has performed in the theatre for many years, including mime performances at Warana and on Young Talent Time, as well as shows with Access Arts and the Qld theatre of the Deaf. James has recently completed a 12-month contract with The Australian Theatre of the Deaf, performing as a solo and ensemble artist, and touring schools and theatres throughout Australia.

James has also worked in the film and television industry, accepting mime and non-speaking roles. His television roles include a mime performance in 'Coffee Break', and in 2000 a deaf character in a Sleep wagon Picture 'Ill communications'.

Recently James established his own business "HandSpeak', for storytelling, mime, teaching sign language and tutoring English to deaf children. He also regularly takes workshops at conferences where he teaches participants communication with their bodies and faces. In October 2002, he took performance workshops in mime, storytelling, poetry and sign language at several Brisbane City council libraries. At the Arts Queensland Cultural policy launch in 2002, he performed mime to a poem by indigenous artist Sam Watson.

In 2003, James will perform mime to patients in dialysis units, and hopes to successfully audition for some film roles and an American touring theatre company.