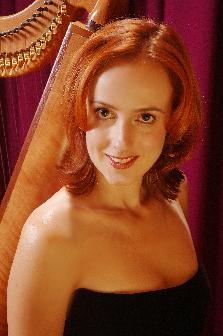 Actor / harpist / teacher

Nicole is a Brisbane-born Musician, Actress and Teacher. She completed a degree in Drama at the Queensland University of Technology and went on to win a scholarship to the London Academy of Performing Arts where she earned a post-graduate diploma in Acting. After four years studying and working in London she returned to Brisbane, adding a Degree in Education at the University of Queensland, which included a teacher practicum exchange to Vancouver, Canada. She is now working as an English teacher in a Brisbane secondary school.

As a professional actress in London, Nicole worked closely with the world-renowned Shakespearean coaches David Perry and Madeleine Cannon. This association culminated in a tour with their company 'Shakespeare in London', to the Montenegro International Theatre Festival 2000. While in the UK she also completed a four month tour in the Quicksilver Theatre Company premier of Sean Prendergast's new play 'The Witches Kitchen' (a comic version of Faust, for children). Over the several years on either side of her London stint, Nicole worked with Queensland's renowned Grin and Tonic Theatre troupe.

Over 15 years ago whilst working with this company, Nicole was lucky enough to meet master harpist Donald Hall, through his role as Music Director. Shortly afterwards, Nicole began performing publicly with his guidance. Humble busking in local markets and the Queen Street Mall gained her a reputation as a talented musician & entertainer. Nicole's evolving skill and growing following led to further professional engagements, including a performance with Kanye West.

While living in London, Nicole played regularly at the British Museum and several leading London hotels and restaurants. In 2005, she travelled to Montana, USA to attend the International Conference of Folk Harpists specifically to learn more about the Renaissance Cross-strung Harp. This was funded by an Arts Queensland Professional Development Grant.

Now based in Brisbane, Nicole performs frequently as a harpist for both private & public engagements. She owns four harps, the smallest being a portable folk harp. The largest is a 38-string lever harp crafted by master harpmaker Brandden Lassells. Her second largest instrument is a 54-string cross-strung chromatic harp made by Mark Blessley of Oregon, USA.

Nicole is available for weddings, functions or in any capacity that may allow her to bring pleasure to those who hear her play. She has also released two CD's: 'Celtic Angels' (1998) and 'Convergence' (2005).