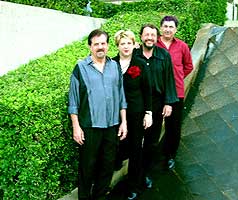 Cafe Society is dedicated to promoting live Salon music. Inspired by the burgeoning cafe scene of Paris in the 30's, Cafe Society has transported this genre so prevalent in the dinner-dance nightclubs of the times to the 21st century. Originally, with violin, piano & drums, Cafe Society has added the 21st century touch with electrified violin, keyboards and percussion. This allows Cafe Society to extend the repertoire to include Latin, jazz, retro and contemporary elements. Cafe Society will transform a dull event into a sophisticated live music event reminiscent of a European cafe surrounded by culture and live music.

Musical styles can develop during the event from intimate lounge music to amorous vocals and dance music Bass, Flute, or a larger string section and Female Vocals can augment Cafe Society.

Cafe Society has performed recently in venues including Indooroopilly and St Lucia Golf Clubs; Tattersalls Club; Il Centro and La Baguette Restaurants; Kookaburra Queen; Customs House and The Heritage Hotel.

Cafe Society is available for any function, Private or Corporate, plus public venues and hotels.