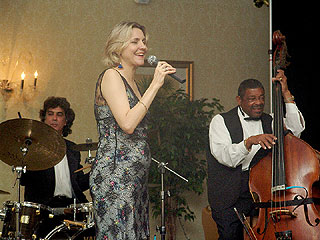 Featuring the trio of
JEFF USHER - Piano/Electric Keyboards and Vocals
TOMMY HONA - Bass and Vocals
WARREN TROUT – Drums
And additionally for The Jazz Cats Quartet
Janelle Colquhoun - vocals
The Jazz Cats play the standard jazz repertoire, featuring the music of people such as DUKE ELLINGTON, RAY CHARLES, GEORGE GERSHWIN and COLE PORTER.
The group specialises in Jazz and Blues, but can also play other styles, such as old-time Rock-N-Roll, Soul, Funk, and even those two kinds of music, Country And Western.
Also performing under the name of "Jeff Usher's Jazz and Blues Trio", The Jazz Cats have performed extensively in recent times at Brisbane's Danish Club and at Wilson's Boathouse Restaurant as well as at many private functions including weddings and birthday or anniversary parties.
On November 12 2004 the trio performed a tribute to the late RAY CHARLES at the Grand View Hotel at Cleveland. This group often expands to a quartet as required with the addition of a trumpeter, a saxophonist or a female vocalist. Larger groups can be put together if required.
All members of The Jazz Cats have well established musical careers, and guarantee a night of high-calibre professional entertainment. Whether you're after some laid-back lounge music, a bit of swing to dance to, or all your favorite jazz standards, The Jazz Cats with their vast repertoire can cater for a great variety of musical requests.