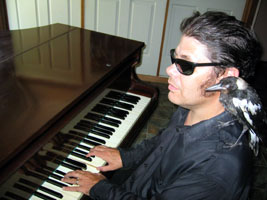 Jeff Usher has been working as a professional pianist for more than twenty years, and has earned a reputation as Queensland's leading exponent of Jazz and Blues. He is also highly regarded as a Composer, Arranger, Teacher, vocalist and Music Consultant.
He has worked extensively throughout Australia and abroad both as a solo performer and as a combo player.

Born in Ipswich Queensland, Jeff showed a keen interest in music from a very early age, commencing piano lessons at the age of six. In 1985 Jeff graduated with Honours in jazz studies from the Queensland Conservatorium of Music, becoming the first blind person to graduate from this institution. In 1998, he received a Graduate Certificate in Music studies from Queensland Conservatorium Griffith University.

Jeff has specialised in most areas of jazz and blues, also having a wealth of experience in many forms of popular and alternative music such as rock-n-roll, funk, soul, Latin, gospel, country, folk, fusion and dub. Jeff is an expert in music composition and arrangement, and here too his abilities are not merely limited to jazz but range over many genres of music.
In more recent times, he has taken to writing lyrics, especially concentrating on blues and soul, also working recently with Warren Trout's Mag 7.

Jeff has numerous album releases to his credit, and is currently working on several new projects.
In 1998, he received a Queensland Recording Industry Sunny Award for his album entitled From Leaps to Bounds, which was voted Jazz and Blues album of the year. His producer, Paul Cheeseman, also received a Sunny as producer of the year for his work on this album.

Between 1986 and 1994 Jeff led his own group, Jeff Usher's Jazz Unit, which featured some of Brisbane's finest young musicians playing Jeff's arrangements of his original compositions, and classic works such as the music of Thelonious Monk. The Jazz Unit now reforms to perform for special occasions.

Since 1995, Jeff has worked extensively with Larry Cook and the Blues Masters, playing Blues classics, originals and recording two albums with this award-winning artist.
On May 25, 1997, Larry and Jeff set a New Guinness World Record for the longest Blues song ever played, 24 hours and 26 minutes, at the Trans-Continental Hotel in Brisbane.

Jeff has travelled overseas several times, his international experience includes performances and master classes in France, Indonesia and South Africa.
He has also toured extensively throughout Australia, playing at jazz festivals and at most major jazz venues such as Bennett's lane in Melbourne, the Side-on Café in Sydney, Wangaratta Jazz Festival and most recently several appearances at the 2002, 2003 & 2004 Woodford Folk Festival.

Jeff currently lectures in Song-writing, arranging, Piano and Jazz Ensemble at the Queensland Conservatorium of Music, also teaching music on a private basis, specialising in Piano, Keyboards, and Improvisation for all major instruments.

Jeff's best Jazz compositions include
Song for Mother Earth; Kaye; Blues at the Risk; Blue Hermit; Watch-word;
We are in God's Hands; Spirit-Train; From Leaps to Bounds; Love never Sleeps;
Blues in black and White; Wangaratta Celebration; Sweet Light of Wisdom;
For a Sleeping Baby; Ellita; Inside the Fire; Battle-song; Samba on the Rocks;
Captain Be-bop; Commitment; Job's Comforter; Leviathan; Tunnels.
Ushering In; Once and for All; Time's Chimes.

Jeff's best Blues songs include
Blues City; Blues City Break-through; Waiting for a Train; Can't look at another Woman; Crab-pot Blues; Big Jeff's Booggy; Mangrove Jack; Jeff's Blues;
Sick and Tired of being Blue [also known as Enough Blues to sink the Titanic].