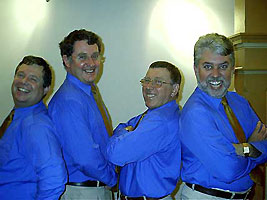 The members of Phonix have a long history of association with barbershop singing. Between them they have nearly 50 years of a-capella singing experience and have been members of many different quartets over those years. It was in May 2002 that this four came together and Phonix was formed.

Phonix is (L to R above) Steve Harris singing Tenor; Mike Muller on Lead, John Shelton on Bass and John Gairns is the Baritone. They are all members of the River City Clippers Barbershop Chorus.

Between them, they have won prizes in various categories of national and regional competitions and local Eisteddfods.

They have a wide repertoire including everything from jazz to swing to doo-wop to gospel. They have sung at venues as varied as South Bank, weddings, birthday parties, corporate functions, the annual Einbunpin Festival at Sandgate, and the Brisbane City Council "Live in the Libraries" program. They love to sing and interact with their audience at close quarters, and have a reputation as great entertainers.