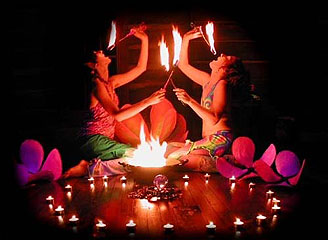 Fire Performer Brisbane, Queensland.
Specialising in breathtaking fireshows, Michelle is an accomplished artist, performing at many festivals and clubs, corporate and sporting events around Australia, including the Bellingen Global Carnival and Rainbow Serpent festival.
Her performance skills range from fire eating, dancing, skipping and fire hula hoops to spectacular wearable fire props for roving fire and stilt walking processions.
She has much experience in teaching her art and has facilitated twirling and children's circus workshops at such festivals as the Woodford Folk Festival and Two High Women's festival.
Michelle has studied visual art and holds a degree from Queensland University of Technology in Brisbane, Australia. She is also an accomplished painter, sculptor and colour therapist. Michelle is currently focused on creating unique multi disciplined character performances combining her performance and visual art skills.
Indoor and outdoor roving characters or stage based shows available. She is available to travel for work.
Sacred Fire* is a 2-3 artist display of feminine fire energy. A 20minute show using such props as fire fingers, fans, fire hula hoops, fire eating and dance. Sacred Fire also includes wearable fire props such as fire wings, headdresses and fire bowls. Sacred Fire can be performed both indoors and outdoors provided there is adequate space, and may be experienced as a stage show or roving act.
For prices, availability, further details and to make a booking, please call or email Janelle at:
tel/fax: (07) 3855 3048
Mobile: 0414 3855 30
Email: info@salubriousproductions.com
ABN: 22 896 553 565