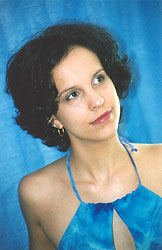 Belinda trained from the age of six as a classical pianist, and continued studying for 17 years. Her school Years were spent doing solo performances, playing in the school bands, string ensembles, and performing duets, musicals and singing in choirs. She has also taken singing & acting lessons

Belinda has performed in many Brisbane and London venues, with her repertoire of rock, pop, classical, and Christmas.

In 2001 Belinda completed an original album "Foot in the Sky" containing 13 contemporary pieces with lyrics and three instrumental works.

Her residencies have included playing in 2002 for 6 months at the Sheraton International, Park Lane Hotel, Green Park London. In Brisbane, she played piano bar from 1998 until 2002 at the Kedron Wavell Services Club. From December 1997 to June 1998, Belinda played at the Myer Centre Eatery, Brisbane City.

Belinda has also played at many functions and launches. These include the Autism Association Queensland Inc cocktail party and the ABC Launch of Focus on Diversity at the Queensland Art Gallery, accompanying an opera singer and playing classical solos.

Belinda has often been requested to play at restaurants and cafes with her wide repertoire of background and piano bar music. These have included the Lyrebird Restaurant during the Brisbane River Festival 1998.