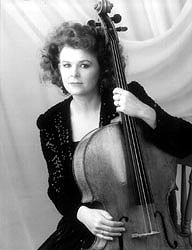 Sydney born Belinda Manwaring is one of Australia's most versatile and exciting cellists, being both an orchestral musician and soloist in many different styles of music. Her wide-ranging repertoire includes solo pieces, Australian works, concertos, and a large array of Baroque music. She not only performs, but is also a respected teacher.

Belinda studied with the distinguished cellist, Lois Simpson, at the Sydney Conservatorium. During this time, she travelled extensively overseas with the Conservatorium Symphony and Australian Youth Orchestras. In 1982 she was awarded the Queen Elizabeth II Silver Jubilee Award, enabling her to study at the International Menuhin Music Academy in Switzerland with teachers of the calibre of Pierre Fournier and to undertake master classes with noted exponents such as Jacqueline du Pré and Anner Bylsma. She travelled overseas again with the Sydney Symphony to the USA in 1988 and to the International Cello Festival in Manchester in 1992 and 1996.

In April 1993, Belinda became the first musician to gain the Diploma in Public Performance awarded by the Australian Guild of Music & Speech in Melbourne, and the following year she obtained her Diploma in Performance from the University of Adelaide. She has since performed in numerous recitals, chamber music and orchestral concerts in and around Sydney, in the Sydney Festival, and for radio and television. Her own group, the Petit Four String Quartet, was featured in all the episodes of the acclaimed ABV-TV series, Australia Take a Bow. She has also played as a freelance musician with the Sydney Symphony, Tasmanian Symphony, Australian Chamber and the Australian Opera & Ballet Orchestras. For many years Belinda has also taught cello and chamber music at the Newcastle Conservatorium, Sydney Grammar School and privately.

Belinda is especially attracted to Baroque music, and her repertoire in this area consists of some 50 works by 25 composers. She has studied baroque cello with Tim Blomfield and undertook further studies in England. As well, she has attended the Gambello Workshops, the Adelaide Baroque Summer workshop and in 2002, the Sirius Summer Masterclasses with Anna McDonald and Erin Helyard. In Sydney she played with various baroque chamber music groups such as Continuo Plus. In the last 2 years she performed in the prestigious St James Early Music Series, and two years earlier she gave a baroque recital at the Adelaide Fringe Festival. Belinda is proud to play a baroque cello by Australian instrument maker, John Hall.

*Having moved to Brisbane in late 2002, Belinda is continuing to expand her career from her new base.