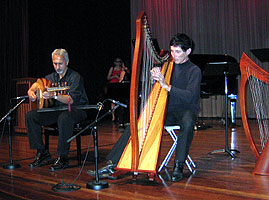 Donald Hall has become a master of many instruments due to a long history as a professional musician and entertainer. Moving away from the music industry, Donald has mostly worked in theatre, providing compositions, music and sound effects for plays, festivals, cabarets, musicals and experimental operas. He has a long association with Grin and Tonic Theatre, as well as working with most amateur and professional theatre companies around Brisbane.

His instruments include piano, percussion, cello, sitar, recorder and harp, although it is doubtful there is an instrument Donald has not played at some time or in some performance.

As the harp has become a particular favourite of Donald's, he has regularly presented programs of the humorous look at the history of the harp. He will perform on the Troubadour harp, the Celtic harp and the Spanish cross-string harp- the rarest and the most beautiful of all the harps. With fascinating anecdotes and stories in between the pieces, Donald has captivated audiences at venues including the Queensland Performing Arts Centre and the Brisbane City Hall.

Donald has released a number of cds, most recently playing harp with his Persian quartet. Other recordings have included traditional pieces for his different harps, ancient Persian music and popular classics.

Donald regularly tours with Khidir, a Persian/Australian quartet. They perform a program of exotic music from the courts of ancient Persia and the sublime poetry of the great Sufi poet Rumi.

The ensemble performs on traditional instruments- Oud, Tar, Kamancheh, Ney, Santoor, Harp and Percussion.

Whether a theatre group needs a one-man orchestra, a festival requires a diverse entertainer, or a wedding reception wants some background music, for entertainment value or something a little different, Donald Hall is hard to overlook!