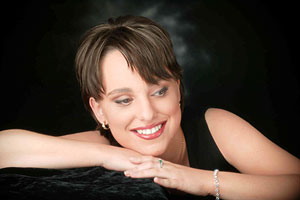 Brisbane Soprano Hayley Kitchener has performed both in Australia and internationally.

Her love and passion for music and theatre began at a young age performing in choirs, eisteddfods and musicals.
At age 15 she performed with the Young Conservatorium Youth Choir and eventually went on to study classical voice beginning her music degree in 2003. She graduated with a Bachelor of Music in 2006.

Hayley has performed as a soloist at many events around Brisbane. Her most recent highlights include:
* Performing as the guest soloist and motivational speaker for the Gallipoli Choir Fundraising concert "Empowered Voices" at All Hallows school in April 2014,
* Performed a number of classical pieces at the Brisbane Music Performers Club classical concert in March 2014,
* Featured as a soloist with the QPAC choir in 2013 on their 'Spirit of Christmas' CD.

Hayley also sings at weddings and other functions and has performed with a number of small vocal ensembles. Hayley is not only a singer but composes her own works, the first of which she wrote at 14 years of age. She also had the opportunity to perform one of her works at the Wataboshi music festival in Shanghai 2005. She also conducts choirs and teaches singing and piano starting her music teaching business in 2006.

Through her teaching, performing and composing, Hayley loves to share her gift of music with others bringing inspiration to those around her. "Hayley has amazing gifts which she loves to share with others. She is an inspiration. I always enjoy working with Hayley as she brings hope and encouragement to others, inspiring them to grow in their gifts and talents." (Colleague from Mansfield Melody Makers community Choir)

Other career highlights include:
> Performing one of her original works at the International Baptist Church in Rome 2010,
> Performing the soprano solo roll for Handel "Messiah" at Albert Street Uniting Church,
> Forming a four-piece band "Jellyjarh" in 2011, which continues to perform at events around Brisbane and regional areas.