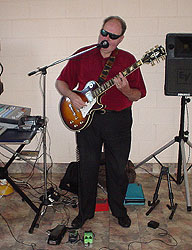 Jack started playing guitar at the age of three, joined his first band as a teenager in the late sixties and broke away to pursue a solo career in 1986. In 2001 Jack was judged the best guitarist in the Battle of the Bands.

Jack performs mostly as a one-man band. He records the backings, playing all the instruments and singing harmony vocals in his own studio, leaving only the melody vocal and lead guitar to perform live.

The good old Rock and Roll of the fifties and sixties is Jack's specialty. He plays everything from Johnny Mathis to Jimi Hendrix at venues ranging from restaurants to bikey clubs.

Apart from his solo career, he often plays as a session musician in recordings, and is always happy to help a band in need at the last moment! Jack loves his music and his enthusiasm shows in every performance.