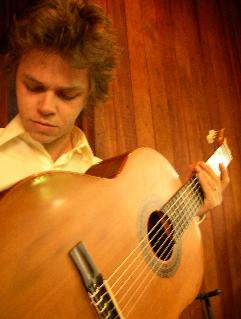 Classical, flamenco, Latin, jazz guitar; lute; Theorbo; teacher; composer

Joseph Meyers is one of Australia's premier classical guitar and lute performers. He has been performing regularly in a variety of professional settings since the age of 14. After completing his studies in classical guitar at the Queensland Conservatorium of Music, where he was awarded the much-coveted Conservatorium Guitar Prize, Joseph has performed concerts in many different styles, including classical, flamenco, Latin and jazz.

As well as performing a vast range of classical and contemporary guitar repertoire throughout Australia, Joseph has been presenting concerts and lectures on the German baroque Theorbo, a spectacular 24-string lute, specialising in the music of J.S. Bach.

In addition to being a much sought after performer, both solo and in ensemble, Joseph is one of Brisbane's most respected guitar educators and composers, having been invited to conduct masterclasses on the performance of the music of Bach and to compose music for the AMEB classical guitar syllabus.