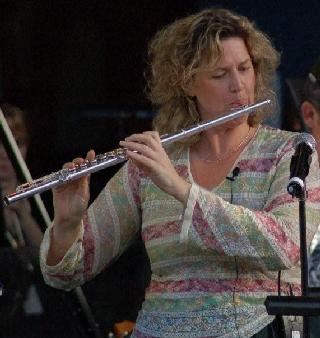 Karen Lonsdale is one of Australia's busiest freelance flautists. She is a graduate of the Queensland Conservatorium where she studied with Gerhard Mallon. With the assistance of an Australia Council Study Grant, Queen's Trust Grant, German Government Scholarship and the Owen Fletcher Post-Graduate Scholarship, she continued her flute studies with Paul Meisen at the Hochschule for Music in Munich, graduating with a Meisterklassendiplom in 1992.

Karen has performed as an orchestral flautist with renowned conductors Lorin Maazel, Sir Colin Davis, Gianluigi Gelmetti, Yuri Temirkanov, Simone Young, Yoel Levi, Edo de Waart, Loris Tjeknavorian, Christopher Seaman, and the late Richard Hickox. She has performed regularly as Guest/Acting Principal Flute with the Queensland Orchestra, (previously Queensland Symphony and Philharmonic Orchestras) and as Guest Associate Principal Flute with the Sydney Symphony. She has also performed with the Munich Symphony, North West German Philharmonic, Tasmanian Symphony, Australian Opera and Ballet Orchestra, Melbourne Philharmonic and the Australian Entertainment Orchestra. She has played in pit orchestras for the Royal Ballet, English National Ballet, Australian Ballet, Queensland Ballet, Simon Gallagher and co, Budapest based 'Operettvilag', the Broadway Touring Company/Stuttgart, Opera Queensland and Opera Australia, among others.

Karen has performed as Concerto Soloist with the Queensland Philharmonic Orchestra, Sunshine Coast Sinfonia and Balmain Sinfonia. She has performed in the Queensland Orchestra Players Chamber Series and has been guest artist with the Southern Cross Soloists, Armenian String Virtuosi, Topology and at the 1999 Darwin International Guitar Festival.

Karen has a great love of pop, rock, jazz and other modern styles, and has played in back-up orchestras and ensembles, with well known performers such as Il Divo (with musical director/drummer Gary Wallis), The Ten Tenors, Tommy Emmanuel, Grace Knight, Julie Anthony, Tommy Tycho, Simon Gallaher, Jon English, Marina Prior, Rhonda Birchmore, Donny Ray Evins, Jackie Love, Don Lane, Katie Noonan, Tyrone Noonan, Todd McKenney, Kate Miller-Heidke, Tony Barber, Andy Firth, William Barton, Sirens of Song, Adam Lopez and Kerin Bailey. She is Solo Flute and Lead Vocalist with the cabaret ensemble of the Queensland Orchestra, X-Collective. In 2007, Karen played as a soloist with the Queensland Orchestra, rock guitarist Tim Gaze and the River Festival Surf Band, conducted by Sean O'Boyle, in the final concert of the Brisbane River Festival.

Karen is an Examiner for the Australian Music Examinations Board in Queensland and Lecturer in Flute at the University of Southern Queensland. She has presented flute workshops for the Australian Youth Orchestra, New South Wales Flute Society, Education Queensland, Queensland Flute Guild, Darwin Youth Music Camp, Grafton Artsfest, University of New South Wales Music Department, Central Queensland University, McGregor Summer School and the Queensland Summer Flute Festival.

Karen is in demand as an Adjudicator and has worked in this role for the Adelaide, Brisbane, Ipswich, Toowoomba, Gold Coast, Redlands, Sunshine Coast, New South Wales Flute eisteddfod societies, the Queensland Flute Challenge, James Carson Competition, Blitz (Allans) and the Australian National Band Championships.

Karen has appeared as Presenter at the National Flute Association Convention in Kansas City, the Australian Society for Performing Arts Health Care Conference in Melbourne (2008), Queensland Conservatorium Griffith University Project Week, Brisbane (2007), for Masterclass Australia and the Sydney Flute Festival (2006), and the 12th Australian Flute Convention in Coffs Harbour (2005). In 2009, Karen presented at the Australian Flute Festival, Adelaide, the Performing Arts Medicine Symposium in Colorado, and the National Flute Association Convention in New York, USA. In 2010, she presented again at the Performing Arts Medicine Symposium in Colorado and the National Flute Association Convention in Anaheim, USA.

Most recently, Karen recorded the new flute piece, Five Dances for Flute and Piano by Australian jazz composer Kerin Bailey. The score and CD will be released in January 2011.