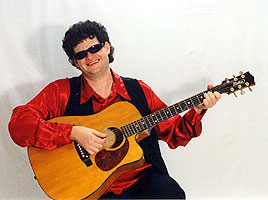 Steve is a versatile Solo Entertainer, working as a singer/guitarist and songwriter at pubs, clubs, restaurants and private functions.
Spartek Entertainment is the name given to Steve's duo and band. Steve has been entertaining audiences professionally around Southeast Queensland for over ten years solo, and as part of duos and bands. His extremely large and varied repertoire ensures all audiences will hear music to suit their tastes. From Folk, Celtic & Country through Ballads & Blues to Rock'n'Roll & Modern Pub Rock including some Comedy & Original material.

He plays both acoustic and electric guitars (rhythm and lead) occasional harmonica, using both synthesised or pre-recorded backing and/or drum machine, as appropriate. He receives many compliments on the quality of his vocals and guitar artistry. The style of entertainment can be varied from a simple 'Acoustic' show (suitable for restaurants) to a 'Full-On-Rock' show to keep the wildest 'Party Goers' dancing. His quality P.A. equipment is suitable for small, large and even outdoor venues - and a good 'full' sound is always achieved.

Requests are always welcomed. His repertoire is extensive and varied and mostly he can oblige with your song - or find a similar song to suit. Steve does not stick to any set programs but is constantly varying content to suit the audience and venue requirements. This also ensures a wide variety and that no two shows are the same.

Steve has played many of the pubs, clubs and other venues around Southeast Queensland including having several long-term residencies. He has won many awards, released an album, under contract, and undertaken several overseas tours.

Steve's major local achievements include multiple major award winner at country music festivals (1987-1993) (including 'Gold Guitar' in New Zealand), main stage appearances at several Gympie Musters and cruise ship entertainer (Cairns 1991/2)

Internationally Steve has toured New Zealand twice with well known recording artist Desree Crawford, performed with international artists on a four week tour of Switzerland in 1992, and toured the Solomon Islands, raising $20,000 for a handicapped children's centre in Honiara.

Performing mainly around Brisbane, but also from far north Queensland to far western New South Wales and south to Sydney, he is also recording and producing albums and demos for other artists in his own studio - Spartek Recording Studio.