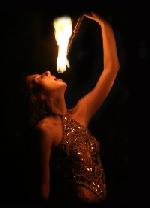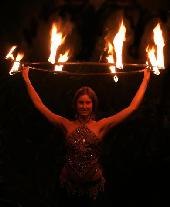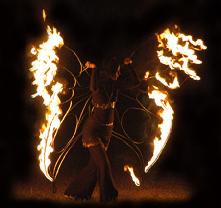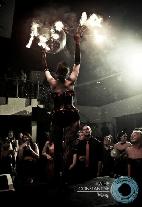 Experience the thrilling and dangerously seductive art of fire performance.

Sacred Circus' elegant evening entertainment is delivered by roving fire eaters, fire dance stage shows, feature fire podium acts, high fire on stilts, or as a flaming 'Meet and Greet' welcome.

Be amazed by the flaming hula hoop girls, wandering fire-swallowers, and fire adorned mystics as costumed performers indulge in luring and brazen acts.

Sacred Circus fire entertainers are available to perform locally, nationally & internationally, with a combination of your fiery choices throughout the evening, including short cirque-style acts, 'Meet and Greet', feature acts and roving artistry.

Welcoming Fire Acts- first impressions count! Give your guests a welcoming to remember with fire girls flanking the entrance to your venue, or entertaining guests as they arrive.

Roving Fire-Eaters- Heat up your event with spicy fire-eaters! Weaving amongst your guests, they perform a variety of 'up close and personal' fiery tricks including fire 'swallowing', fire fans, and a variety of wearable fire costumes.

Freestyle Fire Dancers- fire performers are skilled at performing with a large range of flaming toys. Watch them manipulate flaming chains, fire staves, fire hula hoops, fans, and their unique collection of other fire toys. By selecting the most suitable equipment for your event, freestyle formats allow the dancers freedom to complement your chosen venue, theme and preferences. 

Podium & Feature Fire Acts-Consider adding a burst of fire during the evening with flaming hula hoop and fire fan dancers on podiums, inside water fountains or at your chosen location. They perform single acts lasting 3minutes, or multiple short burst burns throughout the evening. For a higher impact, opt for the 10-15minute feature fire show, packed full of the most thrilling bits!

Inspired by their practice in the visual arts, fiery features become sensory journeys to experience the beauty of elegant wearable fire, elaborate costume design and framed by an impressive collection of flaming sculptural installations.

Whatever your vision, you can depend on Sacred Circus to perform a striking visual display, capturing the fusion of light and dance to perform a dynamic contemporary spectacular. Covered by $20million public liability insurance, and a flawless safety record, Sacred Circus Fire Artists are Hot, hot, hot!