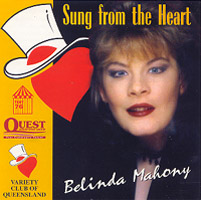 Belinda has a rare and inspirational talent. She sings with such passion and feeling, she is able to move large audiences to tears.
Belinda had her first public performance as a finalist at the Tropicarnival Eisteddfod on the Gold Coast. Later the Variety Club of Queensland discovered Belinda when she sang at a Business Achievers Awards night.
Variety decided to help Belinda realise one of her dreams to make her own CD and in 1998, Sung from the Heart was released. Variety then organised further engagements for Belinda, including the Gala opening of the Marriot Hotel in Brisbane for her CD launch.

In 1999, at a fund raising event for the Variety Club of Victoria, she was billed to perform with The Seekers at their Melbourne concert. In 2000, Belinda performed at the Premier's Ball in Brisbane, and was awarded the title of 'Ambassador to the Variety Club of Queensland'.

Belinda regularly performs at fund-raising and charity functions and in 2001, Belinda performed at the Commonwealth people's Festival in Brisbane.

Although born with intellectual and physical disabilities Belinda has demonstrated much courage in the face of adversity. Her determination continues to be a driving force in her quest to give people joy from her voice.