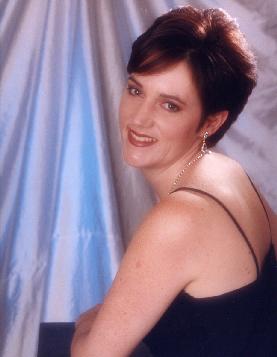 As a 7 year old Dana Kingsford began singing in the Graceville State School choir and also took up the piano. She was handpicked at the age of 12 to be part of a small vocal ensemble under the direction of Mr Phil Luke for school recordings. Her early vocal training with the Graceville State School choir included learning 4-part harmony, which she later developed further.

When Dana joined the Queensland Youth Choir in 1984 as a founding member, her love of singing led her to begin singing lessons. She first learned from the well-known English tenor Mr Henry Howell before undertaking private tuition at the Queensland Conservatorium of Music with the famous Australian tenor, Mr Donald Smith OBE. She continued until 1989 with Donald while studying for her Diploma of Music (Vocal) at the Queensland Conservatorium of Music. By 1990 she had changed teachers, learning with the QCM Head of Vocal, Janet Delpratt.

Dana's roles during her years at the Conservatorium included a Fairy in "A Mid Summer Night's Dream" by Benjamin Britten in 1990, Anne from "A Little Night Music" by Stephen Sondheim (1991), and in 1992-93, roles in excerpts of "La Centerentola" by Rossini & Suor Genovieffa in Puccini's "Suor Angelica".



When she completed her Diploma of Music in 1991 Dana transferred to the Bachelor of Music and completed this in 1993 receiving distinctions in early half-yearly singing exams.

From 1994 to 2001 Dana taught privately and performed concerts with the St Lucia orchestra as well as singing regularly for weddings and at church events and services.

In 2001, she moved to Canberra and just before returning to Brisbane in 2003, landed the role of Sister Berthe in "The Sound of Music" with an amateur theatre group. The season was a sell-out success.

Since moving back to Brisbane, Dana has been enjoying singing with her sister as a duo at services at her local church. She has presented concerts at the church, donating the proceeds to the church's activities and renovations.

In 2007, she played the role of Lucy in "The Telephone" (L'Amour a trios), by Menotti at the 4MBS Studio on two occasions.

After joining the Opera Queensland Chorus in 2008, she sang in the successful recording of Opera Queensland choruses recorded at the ABC Studios in January 2009, and in "Aida" in October 2010. Future engagements with the Opera Queensland are in the 2011 season of Tosca.

Dana currently resides in Brisbane and is a vocal tutor at a private teaching studio.