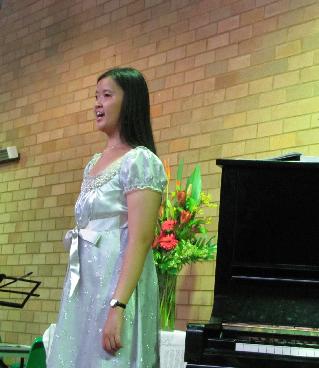 An emerging singer, Ria Andriani has spent her life around music and found her niche in classical singing. She is currently studying with Katheleen Connell, and undertaking her Bachelor of music / Bachelor of arts at the University of New South Wales.

Ria's recent experience includes singing with the youth choir of Sydney Philharmonia choirs, the premier chorale society in Australia, and she recently joined St James Singers. Her chorale repertoire includes Grieg's Peer Gynt, Handel's Solomon, Handel's Messiah, Mahler's Symphony VIII, Britten's Rejoice in the lamb, and works by contemporary composers such as Ross Edwards, John Tavener, Eric Whitacre and Morten Lauridson.

Ria's ever-expanding solo repertoire includes Lieder, Melodies, English Art songs, Italian Arias, Sacred arias and contemporary works such as songs from musicals and pop songs. Her classical repertoire includes Schubert's Der Musensohn, Head's Over the Rim of the Moon Song Cycle, Dvorak's Biblical songs, Italian Arias and Bach's arias; songs particularly suitable to be sung at weddings and funerals.


As a musician, Ria is a quick learner, and an engaging member of an ensemble. She is regularly performing in eisteddfods, and is available to sing at functions such as weddings, funerals, conference opening ceremonies and functions.